Interpreting Services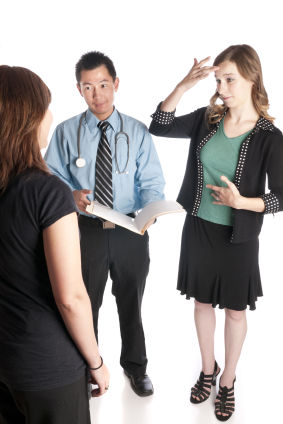 We provide professional interpreters certified by federal and state courts. Many of our business interpreters are technologists familiar with the terminologies used in a broad range of industries – perfect choices for bridging the language barriers. We offer interpretation services for:
Business meetings
Contract negotiations
Site visits
Court hearings
Depositions
Interviews
Insurance matters
Consecutive interpretation
The interpreter will interpret after and not while the speaker speaks. The speakers will make pauses and allow time for the interpretation. The interpretation of sentences is performed at intervals of discourse, often after a few phrases. It is suitable for business meetings, training sessions, seminars, judicial proceedings, medical visits, etc.
Escort interpretation
This type of consecutive interpretation is appropriate for an individual or company who needs an interpreter to pick up guests at the airport or a hotel and later accompany them on tours, site visits, or a restaurant. The setting is informal.
Simultaneous interpretation
This is the interpretation of words as they are spoken. It is ideal for international conferences or any event involving multiple languages and technical equipment. This type of interpretation requires 2 interpreters, taking turns every 20-30 minutes. This is the most difficult of all types of interpretations, because the interpreting is done while the speakers are speaking. The interpreter will interpret a few words behind the speaker. It requires great concentration, the ability to listen and speak at the same time, and a thorough knowledge of both languages as well as the subject matter.
We provide professional interpreting audio equipment for rent! Save time and money by renting our interpreting services and equipment combined. We can serve small meetings or large audiences, and our equipment is compatible with any PA and A/V system. For more information, please click here.
Over-the-Phone Interpretation (OPI)
Our telephone interpretation services are available 24/7 in virtually any Foreign language (over 150 languages listed, with help available on the line to assist you finding an interpreter for any unlisted language). For unscheduled interpretations, we provide a direct (800) phone number to access interpreters in any language. Please contact us about how to setup a dedicated OPI account for your company.
Please contact us for more information about our interpreting services.