Translation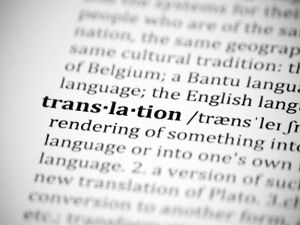 All of our translators are technically trained and experienced subject specialists, and they are all multicultural and bilingual. Most of them hold advanced degrees in scientific or engineering disciplines, medicine, or business, and are certified by the American Translators Association (ATA). They translate into their native language and understand the inner workings and the terminology of an industry or discipline.
Areas covered:
Technical manuals and documents
Localization (L10N)
Brochures
Advertising copy and layout
Legal documents and contracts
Medical and health care documents and records
Research papers and journal articles
Financial documents
Product literature
New product announcements
Patents
Press releases
Copywriting for foreign markets
Translation services include:
Accurate translations tailored to the target audience
Proofreading and editing
Multilingual desktop publishing
Prompt within-budget delivery
Certificate of accuracy or notarization
Various areas of expertise (legal, medical, technical, etc.)
Multilingual printing
Multimedia, and software localization (l10n)
Confidentiality
Access to over 4,600 professional linguists
Glossary management
Memory tools
With businesses increasingly in need of reaching a global audience, the importance of translating non-traditional media is gaining ground. Accent on Languages can help you produce localized rich media, interactive product demos and training tools, 3D vector animations, Flash and Shockwave presentations.
Website localization (l10n)
Making your web site multilingual can be a complex process, and translating the words is just the beginning. We make your site multilingual while you stay focused on running your business. Give us your URL and the languages you want to use and we'll give you a fast reliable estimate THE SAME DAY! (Click here for more information)
Audio-Visual Services
We are capable of localizing your audio and video productions into any foreign language. Audio-visual services include:
Subtitles:

Make your existing audio visual programs readable for foreign language audiences without replacing the original soundtrack by adding subtitles to your video, movie, and film.

Voice-over:

International voice production services for adding audio voice-overs to corporate and audio/visual presentations, soundtracks, movies, and other media.

Dubbing:

Dubbing, unlike subtitling, which involves a translation of speech into writing, is the oral translation of oral language. Unlike "interpretation", dubbing requires the substitution of the voice of each character on the screen by the voice of one actor. Dubbing is, however, distinguished from voice-over by its strict adherence to lip-synchronization. There should be an equivalence of extra-linguistic features of voice, especially gender and age. The matching of other markers of speech such as personality, class, and ethnicity is most difficult because these features are not universally available or comparable. Another requirement of successful dubbing is the compatibility of the dubbing voice with the facial and body expressions visible on the screen.
Please contact us for more information about our translation services.